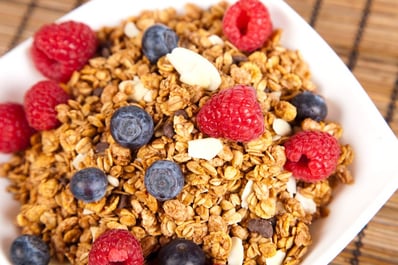 There's nothing like a bowl of flavorful, filling cereal to start your day. And nothing compares to tasty granola to top off your yogurt or other favorite treat. Both cereal and granola have become a staple in American households, and it's no surprise that competition is on the rise.
When it comes to food marketing your granola and cereal packaging is vitally important. Consumers are likely overwhelmed by dozens of cereal selections in the store aisle, and without powerful presentation, your brand doesn't stand a chance.
Hopefully your cereal or granola company and brand is thriving. If not, here are a few surefire signs that your granola and cereal packaging needs an overhaul.
Sales Are Stagnant
We don't have to tell you that sales numbers are hardly ever linear. It's ideal to see the chart point in an upward trend, but sometimes this isn't the case. Sales can become stale along with your granola or cereal product, which remains sitting on a shelf as customers pass it by.
Sound familiar?
If so, the answer to your stagnant (or declining) sales might be easier than you think. Sometimes all that your brand needs is a quick overhaul—something to give it a shiny, irresistible presentation without costing a lot of money.
The good news is that this packaging has numerous options, especially when you consider using innovative custom stand up bags.
Cardboard boxes are still trending for granola and cereal, but the trends are about to shift.
Custom stand up bags for granola and cereal provide an instant facelift when switching from outdated cereal boxes. They look better on the shelf, they're easier on the wallet, and customers love them.
So if your sales are on the decline or you just can't seem to push into a new threshold, your granola and cereal packaging warrants a design overhaul.
No One Remembers Your Brand
It's clearly a problem when your name doesn't ring a bell to the average consumer. As customers stroll through the store aisles, they easily see big brand cereal names such as Kellogg's and General Mills.
Even if your granola and cereal company isn't yet to that caliber, that doesn't mean that it can't get there in time.
But if your brand has been floating around for a while and the general public can't remember a thing about your cereal product, a design overhaul should be at the top of your list.
In order to get customers to remember your brand, you need to give them something to remember in the first place. Humans are visual creatures, and creating compelling and attractive packaging can help keep your name on customers' minds.
The big dogs in the granola and cereal packaging industry have made it to the top with the help of top-notch presentation. If your packaging stands out on the store shelf, customers won't have trouble remembering your name ever again.
Customers Confuse You With Other Companies
Failing to stick on your customers' minds is bad enough. But what about the times when customers confuse you with another brand?
You might not see this as a bad thing, but think about this for a minute.
Your packaging is so similar to another product, that the average customer can't differentiate your company from your competitor.
When that said customer wants to buy your product, they reach for the brand that they confused you with in the first place.
This results in a lost sale for you while your competitor reaps the rewards.
The idea here is to invent your brand from a completely innovative standpoint. This isn't to say that you can't curate ideas from other companies and blend them into one powerful presentation, but let's be honest—nobody likes a copycat.
Your best bet in this situation is to invest in custom artwork for your granola/cereal packaging. This means using your own color scheme, original graphics, a standout logo, and awesome typography.
Once your company integrates its own custom artwork, you officially are on your way to becoming a brand rather than another run-of-the-mill cereal company.
You Stopped Thinking Outside The Box
When we say you stopped thinking outside the box, we literally mean outside of the box. If you're in the cereal industry especially, you've likely used cardboard boxes to house your cereal product for quite some time.
It's a mistake that a lot of cereal companies make.
However, you can easily recover from this mistake by, well, thinking outside the box. Then after thinking outside of the box, you can ditch the box and move on to a more innovative and eco-friendly form of packaging.
Sound like a plan?
The first step for thinking outside of the box is contacting a professional packaging company. A professional will be able to help you step away from the box and strategize a whole new way to market through packaging.
Don't let your mind get stuck inside a few pieces of cardboard.
Your Granola And Cereal Packaging Overhaul Made Easy
It isn't complicated to put a new face on for your packaging. In fact, we've made it easier than ever with our innovative Make My Pouch application.
You can use the tool to get a detailed look into what your granola or cereal packaging could look like once you break up with your box.
We'll let you daydream on that for a little bit. But for now, request a free sample to experience the power of custom stand up bags first hand.
(Image Source: https://nomoretogo.com/kid-friendly-cooking/)
Related Posts:
http://www.standuppouches.net/blog/why-is-there-empty-space-in-a-cereal-box
http://www.standuppouches.net/cereal-packaging-granola-packaging
http://www.standuppouches.net/blog/your-blog-post-title-here