Whole Bean Coffee Packaging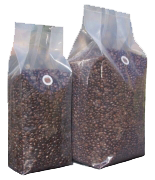 Before we delve into the many whole bean coffee packaging bags wholesale options we have here at Stand Up Pouches, brace yourself. With so many bags for whole bean coffee to choose from, it's hard to know where to begin. We'll make this a bit easier on you by describing the multitude of perks (of the java variety of course) that you'll enjoy with our printed coffee bags.
When you order customized coffee bags from us, you promise yourself printed coffee bags that are durable, rugged, and provide the utmost in protection for your precious whole bean coffee. Making a commitment by ordering our customized coffee bags is not only a promise to yourself, but also a promise to your customers that the product they receive will be as fresh as on the day it was harvested. Whether you're ordering whole bean coffee bags wholesale or in smaller quantities at a time, you stand to lose little when you invest in our customized coffee bags.
The desire to keep your whole bean coffee protected is a very real concern not taken lightly by us regardless of where your product comes from. This is why we provide printed coffee bags that use multiple layers of film to retain the freshness of your beans. These layers of film in our customized coffee bags have been laminated to create a barrier against odor, light, moisture, and the possibility of punctures. Because of this, you can be assured that when you opt for our whole bean coffee bags wholesale or even in smaller amounts, each of our printed coffee bags will be the same quality as the next one.
On top of all these protections we offer for your whole coffee beans, we also allow you to choose from custom printed and stock. Both our custom and stock designs look professional without making your product appear boring or like just another generic brand of coffee beans.
Don't waste any time! Submit artwork for your design now and you'll be able to receive your customized coffee bags in as little as 4-6 weeks, or check out our online store to browse our pre-made bags. If you don't want to order whole bean coffee bags wholesale, you can purchase as few as 5000 pouches as a time, which is a minimum much lower than that of other companies, or you can request a free sample to get a feel for the quality of our stand up pouches. The clock is ticking; don't get left out without a stand up bag for protection!