Hand's Free Hand Sanitizer Units--Tested and Rated!
Schools, Hospitals, Hotels, Museums, Churches, Universities...they want and need hand's free units to dispense hand sanitizer but no one knows the best units available. We've tested and rated the Top 3 for several criteria. Click Here For The Report (pricing options listed on report)
Cost
Durability
Ease
Availability-Lead Time
Ease of Filling-Refilling
Gel-Foam-Misting
Alcohol Compliant
Battery and Electrical Units -- UL Certified
Sample Units Available
Buy It and Forget It...It's Going To Last
Contact Us Now--216-373-1005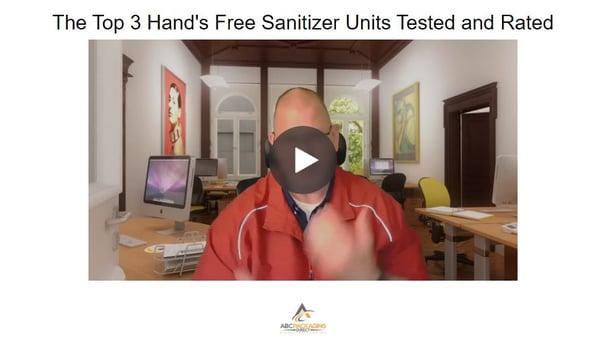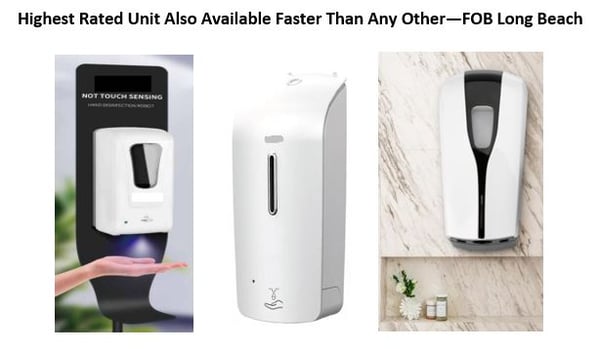 Grab The Report Here--Includes Pricing--Sea Freight-Handling
Here is What We Know
An effective drug treatment is probably 3-7 months away. This won't stop the spread and it won't be the cure but it will take some pressure off of the health system.
Soon we will have widespread testing of some sort
A vaccine is probably 12-18 months away.
Many states are attempting to "re-open" schools, etc in the fall.

Contact Us 216-373-1005

or Download Report With Pricing
The Top Rated Unit...with a score of 4.87 out of 5 is available immediately. Act Now. Click Here
What does this have to do with hand sanitizer packaging supplies? A ton. We have seen demand for gallon containers push global suppliers to capacity for the entire 2020 year (and we are in April). The same can be said for pumps, whether gallon pumps, half gallon or even 8 ounce sizes. Finally, Purell size bottles (50ml, 60ml, etc) are nowhere to be found and many companies are buying from multiple suppliers from around the world and hoping the caps fit the bottles, etc. It's incredible what is happening. To be very clear, the stress on the global supply chain of these items is truly global...not just from the US. ACT NOW -- 216-373-1005
Word Of Caution--Get In Line Now--These Are Going Fast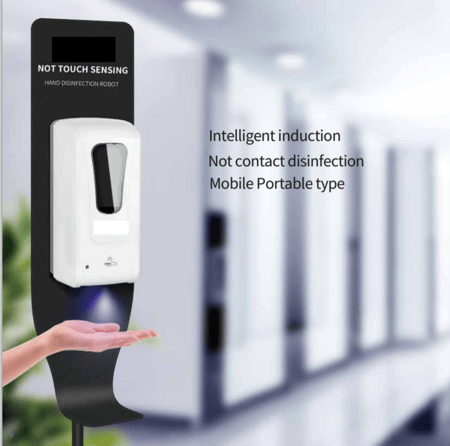 So many companies are sitting around on their hands hoping that some miracle happens....that some friend of a friend finds 100,000 or 1,000,000 of exactly what they need in some warehouse somewhere (at a cheap price)...and that is not going to happen. If you want to be in the hand sanitizer business, expect production time to be at least 90 days and then you have to wait on delivery. Fast Pass
Second Word Of Caution--Hypothetical Situations Don't Work Now
I have heard from hundreds of companies...literally hundreds... asking about..."if I place my order for X by Tuesday and ship by air, when can I have it?" Or, "If I place my order next Thursday by Noon when will production be done?" People, if you don't have an order in place, with cash down to secure your spot in production, no one cares and no one is even going to be able to answer you. Not trying to be a jerk, just real. If you want and need supplies...order them now and get in line. The best way to speed up your delivery is to have an order in house...otherwise no one cares.
With this in mind we have expanded our hand sanitizer offerings to help as many companies as possible.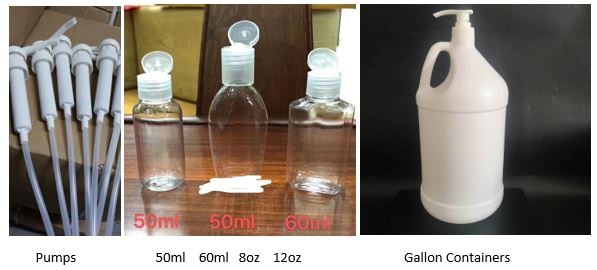 Front Of The Line Production Option--The Fast Pass
Spouted and Liquid Stand Up Pouches
Please review information and let us know how we can help. There is light at the end of the tunnel and we can help you get there...faster! Contact Us Directly 216-373-1005