Stock Stand Up Pouches
Plain Stock Pouches

; the ideal packaging for your growing business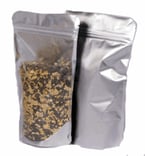 Have you finally started your dream business but aren't sure what to do for packaging? We specialize in accommodating small businesses with superior packaging that will help increase sales and garner greater profit margins. If your company cannot yet accommodate a 5,000 piece minimum run for our custom printed stand up pouches, the next best option is going with plain stock stand up pouches. These stock bags offer the same protection and quality as our custom printed pouches and the MOQ is only one case. Our stock pouches offer the following features at no extra charge:
Along with offering a full assortment of plain stock stand up pouches, we also carry many other flexible packaging styles in our online store. There are many advantages to using flexible packaging versus other types of packaging such as rigid plastics or corrugated boxes. Stand up pouches, whether custom made or plain stock, will help your brand stand up and stand out on the store shelves while protecting what's inside. Protection from odor, vapor, moisture and UV rays; stand up pouches are the solution to your packaging dilemma.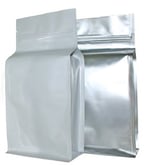 Flat bottom stand bags replace the traditional cardboard box with a plastic liner. A revolutionized approach, these flat bottom stand bags are perfect for cereal, baking mixes, pet treats and more. They are available in 3 different sizes, materials and colors.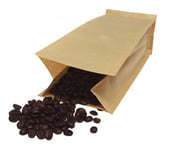 Flat bottom coffee pouches are the preferred type of coffee packaging for many reasons. They offer a flat bottom that ensures the coffee will stand up on the store shelf while protecting the beans inside. Visit our coffee packaging page for more information.

Food saver bags or 'vacuum seal bags' have embossed film on one side and the other is perfectly clear. When the chamber pulls air out, the two sides work together to create a perfect air tight environment that will keep your food product fresh for an extended period of time.

These clear flat bags have vacuum barrier properties and can be used with a vacuum or left untouched. These are a very cost effective way to protect your product and easily show what's inside. Perfect for jerky, meats, candy and dried fruit; increase profits and sales with these flat bags.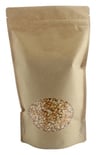 Kraft stand up pouches are notoriously known for their environmentally friendly presence. High quality, natural looking, with all of the same advantages as all other stand up pouches, these kraft bags are sure to woo customers. Available in three sizes. To learn more about the advantages of our kraft bags, view our blog.
Accessories