Why Stand Up Packaging for Your Potpourri Bags?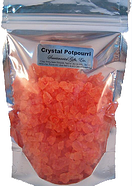 Stand up pouches are perfect for packaging potpourri. The stand up packaging will protect the scent and structure of the potpourri and keep it fresher for longer (the sooner the potpourri dries out, the faster the fragrance wears off). Often potpourri is coated with scented oil to help prolong the smell, and having the right stand up packaging to protect the potpourri is critical.
Oil can wreak havoc on some types of plastic and must be accounted for when designing stand bags. Stand up pouches are made from multiple layers of barrier film laminated together to create barrier properties that not only will protect the potpourri, but also help the product stand effectively on a store shelf.
The pouches will protect the potpourri from moisture, vapor, odor, oxygen, light, and even puncture. These sealed, protective bags will also securely lock the fragrance inside the package so it does not prematurely wear off. Stand up packaging is rapidly becoming one of the ways companies are looking to protect their potpourri while making it more appealing to the consumer and retailer as well.
By design, stand up pouches have a wide face and back, which is ideal for an applied label or better yet, custom printing. Stand bags can be custom printed up to 10 colors, which will display your vitamins and medicine for animals on a retail store shelf like never before.
In regards to our custom pouches, once artwork is approved, your printed stand bags can be ready in 6-12 weeks. Best of all, we have the unique ability to custom print with run quantities as low as 5,000 pieces, one of the lowest minimum runs in the world. Available features for stand bags include heavy duty zipper tops or zipper seals, tear notches, hang holes, pour spouts, and even gas release valves.