Protective Baby Food Packaging for Today's Busy Parent
When it comes to products formulated for infants, toddlers, and small children, we know that parents are really the ones making decisions about whether or not the item meets their family's needs. While a little one may influence their mom's or dad's purchasing choices by excitedly accepting the product – or stubbornly refusing it – it's still the adults who are scanning store aisles and conducting research on which foods, drinks, and other goods are right for their babies.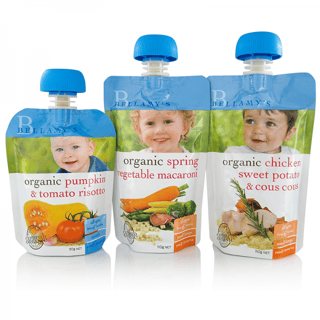 Safety is the top concern for consumers with children, which is why flexible, food grade, FDA-approved packaging is really taking off in this market. Stand up pouches won't break or shatter like traditional glass jars, and they are lightweight and pliable enough that babies can easily hold the product.
Parents won't have to worry about injury if a pouch is dropped because while it is made of thin material, the secret to its unique structure is the multiple layers of laminated film that are bonded together to keep the packaging intact. This blend of durability and flexibility is perfect for ensuring the package does not pose hazards for young consumers.
Stand up pouches for baby food ensure safe and effective storage, which are critical for keeping food and drinks protected from outside contamination and spoilage.
This form of packaging extends the product's shelf life, which is convenient for busy parents. Moms and dads will be able to cut down their supermarket visits and save money while they're at it. Flexible baby food packaging locks in nutritional and vitamin content while pushing oxygen and moisture out, the result of which wards off bacteria and maintains the high quality of the product inside.
Pouches can also be manufactured with additional convenient features that appeal to today's active, on-the-go parent. Tear notches ensure easy and easy opening, while reclosable zippers allow consumers to portion the food while knowing it is protected from harmful external elements. Flexible baby food packaging is highly portable, making it great for travel. Busy parents can toss the product in a diaper bag without adding extra weight or worrying about leaks or spills during transportation.

Spouted pouches have become a widely popular option for packaging baby food because they are perfect for both juices and purred fruits and vegetables. They're easy for parents to open, pour, and reclose, while simple enough for little ones to drink or suck the product right out of the package. Each component of a stand up pouch is safe to come in contact with food and drink, and the use of water-based inks during the printing process both lends well to vibrant designs without jeopardizing the product.
Baby food brands that switch away from heavy, rigid jars or plastic containers will greatly reduce their carbon footprint while attracting shoppers with eye-catching designs that highlight the wholesome, nutritious ingredients inside the package.
After artwork is approved, companies in this market can expect to see their completed pouches in 4-6 weeks and can work with our team to guarantee the package best protects and reflects their product. Custom printed pouches for baby food can be ordered in units as small as 5,000 at a time or as big as 5 million. No matter how many packages are required to keep your product safe and catch parents' attention in stores, our team is here to help get your project started as soon as you're ready.