Lawn and Garden Product Packaging
Package your lawn and garden products beautifully using stand bags (also known as stand up pouches).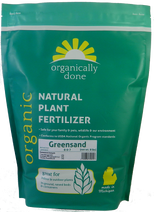 The bags are made from films ranging from metalized film, super clear structures, foil, and even Mylar. Individually, these films don't amount to much, but once they are laminated together, they form amazing barrier properties and provide the strength and stability for the pouches to stand effectively on a store shelf. This barrier film also protects the product from moisture, vapor, odor, oxygen, light, and even puncture.
Stand up pouches have a wide face and back, perfect for custom printing or an applied label. Stand bags can be custom printed in up to 10 colors, and available features include heavy duty zippers, tear notches, hang holes, and gas release valves. Pouches weigh 20 times less than bottles, which means they are a lot easier to lug to the curb and take up less space at the landfill.
Some lawn and garden products packaged effectively and successfully using stand up bags include:
Lawn fertilizer
Plant food
Tree and shrub fertilizer
Vegetable seeds
Pesticide
Outdoor cleaning supplies
Bird feed
Outdoor animal feed
We make it easy to design stand up bags for your lawn and garden product. We have developed our Stand Up Pouch Fast Track System to make it easy to take your current lawn and garden packaging to the next level and beyond using stand up pouches. Our Fast Track System provides information and pricing faster than any other company in the industry.
We can custom make virtually any size stand up pouch, printed or plain. In regards to custom printing, once artwork is approved, you can expect your printed stand bags in 6-12 weeks. Best of all, we have the unique ability to custom print as few as 5,000 stand up pouches, one of the lowest minimum runs in the world.
Package your product in the fastest growing segment of the packaging industry, build your brand name, and positively add to your bottom line. Consider stand bags for your lawn and garden products.