Spouted Bags for Beverage Mixes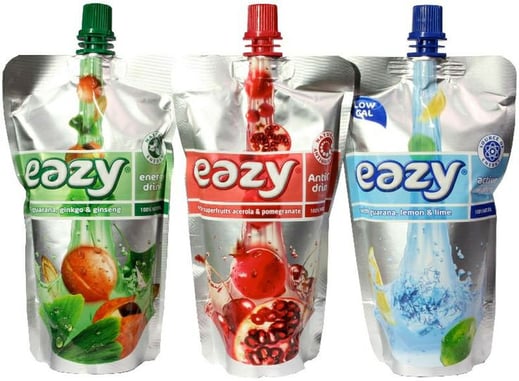 Providing great spout pouch packaging for your customers has never been easier. With our spout bags, your customers can add water, juice, and even alcohol to your brand's mixes without a problem. Some of the products we've successfully packaged are: lemonade, iced tea, bloody mary mix, margarita mix, mojito mix, and pretty much anything you can think of. More and more companies are coming to rely on these as liquid packaging solutions, so don't get left in the dust. Invest in some spouted pouches packaging with us today, and you'll show consumers your brand is here to stay!
Spouted Bags Are Great as Dry and Liquid Food Packaging
Whatever your need, spout pouch packaging can provide you with the right bag to properly market your mixes. Using the latest in engineering technology, we laminated multiple layers of barrier film together to create liquid packaging solutions that stand up against problems like odor, moisture, UV light, puncture holes, and air. All of these things could severely compromise the quality of your product. That's why it's necessary to go with a spouted pouches packaging company that understands how important it is to safeguard your product against harm. On top of this, our pouches are a better alternative to glass containers because they can more easily be recycled, and thus, are better for the environment.
Your beverage mixes need to be sufficiently protected by the spout pouch packaging you choose, but they also need to look good to attract customers too. Because of the thickness of our spouted pouches packaging, the spout bags will stand up on their own. This means that when customers pass them by on store shelves, they'll see them before other spout bags that are lying down. This is also why you want to make sure your packaging has an intriguing, unique look to it. Customers don't want to buy products in plain, thin spout bags because they look cheap.
Spout Pouch Packaging That Looks Great
Since it's so important in the current market to have packaging that properly represents your product, give our custom-printed pouches a shot. All of our pouches have wide fronts and backs so you can fit quite a bit on them. You can even submit your own artwork for approval. Once approved, you'll receive your order of a minimum 5,000 pouches within 6-12 weeks. Most companies require you order far more than 5,000 at a time, but we believe you'll like what you get.
We even offer stock bags and allow you to choose the color and size that you want. Both our custom and stock bags give you the option of many available features. These include tear notches, hang holes, gas release valves, and the pour spouts we have been discussing. Our motto "if you can dream it, we can pouch it" is especially true in this case. You've worked hard creating your product, and we can match that kind of effort by providing you with a pouch that effectively markets it.
*Note: We can also supply rollstock that can be used to create small stick packs for powdered drink mixes.