Spouted Pouches for Your Essential Garnishes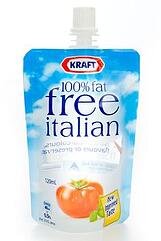 What is it that set some dishes apart from others? The ingredients are important and so is presentation, but what really makes a meal a unique treat sure to impress even the pickiest guests? As the owner of a business that markets cooking oil, vinegar, and/or salad dressing, you know how essential these items are to making a five-star dish. Whether it's that perfect raspberry vinaigrette on your nutty salad or even the customer's favorite (ranch), we've got some stand up bags and pouches that will help set your product(s) apart from the others – just like how your salad dressing distinguishes your meals from anyone else's.
Our Stand Up Pouches with Spout Vs. Other Packaging
With how the market currently is, there's just no time to hesitate. You've got to get your product packaged and out there as soon as you can. That being said, you want to make sure your product is packaged in the best way possible before you send it to stores to be stocked. An easy way to do this is to contact us about our stand up bags and pouches. Our name says it all: our bags really do stand up on their own. We offer a stand up pouch with spout, meaning this pouch is sturdy and stands right up on the shelves, and it also comes with a pour spout. Our spout pouches are especially great for cooking oils, vinegar, and salad dressings because you can just pour straight from the bag!
Many manufacturers go with glass bottles to package the aforementioned product. We prefer to use plastic packaging materials. Why? It's better for the environment! The plastic packaging materials used for our stand up bags and pouches is easily recyclable and even takes up twenty times less space in a landfill. When we found this out, we knew our stand up pouches with spout openings were what the world needs! One of the mottos we live by is "reduce, reuse, recycle" and we invite you to build a company under the basis of this motto.
For each stand up pouch with spout that we make, we use layers of laminated barrier film. The purpose of these multiple layers is to keep whatever is in your stand up pouch with spout safe from punctures, moisture, odors, UV light, and air. Since we don't use glass, we have to use layer after layer of film to provide stand up bags and pouches that protect your product as well as it would.
Why should I choose stand up pouches with spout openings?
Really, there's no reason not to! For products like cooking oils, vinegar, and salad dressings, it is so convenient to be able to pour them from a spout. This way you don't have to rip open the bag and then find a way to reseal it. Pour spots are not the only features available for our stand up bags and pouches either. You can choose from tear notches, hang holes, gas release valves, heavy duty ziplocks, and more. On top of this, we give you the option of custom-printed bags or stock bags. When you submit your artwork for the custom bags, you'll only have to wait 4-6 weeks after it's been approved to receive them. We require you order 5000 or more custom bags at a time, but this amount is rather low when compared to other packaging companies. Don't keep your customers waiting any longer; go the Stand Up Pouches way and you'll please everyone (except maybe your competitors)!