Seafood Packaging that Keeps Food and Consumers Safe
Protecting shellfish and other aquatic food requires proper fish packaging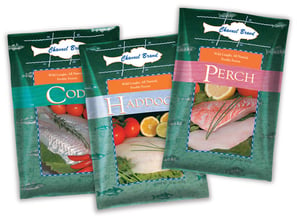 Did you know the majority of seafood that is harvested is consumed by humans? Whether eaten with a nice dinner or taken as a vitamin or supplement, fish and fish oil offer an abundance of nutritional properties for today's health-conscious consumer. Seafood is rich in protein and Omega-3s, which people credit with helping to sustain their hunger, reduce fat consumption, and assist with brain function. More than 1 billion people across the globe depend on seafood as their primary source of animal protein. Certain fish varieties are low in calories and help protect against heart disease. Shellfish, in particular, are rich in vitamins that keep skin and muscles healthy.
Many of the most commonly consumed seafood contain a delicate texture, including anchovies, oysters, clams, salmon, shrimp, and crab. To maintain the distinct flavor of each type of aquatic animal and its unique form, proper seafood packaging must be utilized to keep the product as fresh and intact as the day it was cultivated. While tin cans have commonly been used to package seafood products like tuna and anchovies, after time this type of container can alter the flavor of the seafood, and consumers can detect a metallic taste in their fish. Cans are also difficult or dangerous to open, often requiring extraneous tools or additional manpower. This is where flexible packaging, like stand up pouches and flat barrier bags come in — with the ability to be manufactured with easy-open tear notches, reclosable zippers and airtight seals, these seafood bags serve as the perfect solution for keeping seafood fresh, flavorful, and protected from outside contaminants.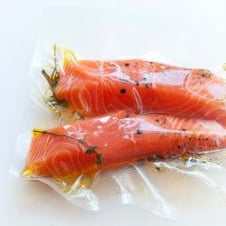 It's no secret that fish is one of the most highly perishable food products. The smell of dead fish is caused by a breakdown of amino acids, where they are then turned into other organic compounds like ammonia — which gives off a rather unpleasant odor that signifies spoilage and waste. Maintaining the freshness of these food can be achieved with flexible fish packaging — made with multiple layers of barrier film that are laminated together, pliable packaging options like seafood bags and stand up pouches keep air and moisture out and lock in the quality, taste, texture, and structure of the product using food-grade materials that won't alter the seafood in any way. Flexible pouches and bags also offer the option of packaging fish at room temperature, cold, or frozen, and the seafood can either be pre-cooked or packaged raw.
Flexible fish packaging can also reduce the risk of mislabeling, which has proven to be a significant problem in the seafood industry. With the ability to custom print and custom size flexible seafood bags, brands can ensure they are delivering on their promises and avoid making false claims about the quantity or species of the food inside the package. Using food-safe, water-based inks and a rotogravure printing process, custom seafood packaging can be produced to educate consumers and ensure all information is clearly legible, vibrant, and stands out on shelves.
Flexible fish pouches and bags are also more sustainable than their rigid counterparts and help eliminate food waste. Vacuum sealed bags and laminated pouches keep the seafood sealed in tight until opened and safeguards it during each step of the transportation process. Puncture resistant pouches reduce spoilage and spillage and extend the shelf life of seafood, making it easier and more convenient for the end user to keep their food safeguarded from the presence of harmful bacteria or other outside elements. Whereas some seafood is packaged in a tray with plastic overlay, or in a thin plastic bag inside a cardboard box, pouches for seafood are self contained, reducing the amount of trash and re-packaging necessary for at-home consumers or those in the food industry.
Stand up pouches, flat barrier bags, and Food Saver bags can be broken down into recyclable regrind and require less fuel to transport than bulky containers, making them a modern, sustainable packaging option for today's eco-conscious consumer. When it comes to preserving the flavor, freshness, and texture of seafood, flexible pouches and bags are the preferred solution for today's leading brands. When it comes to keeping products safeguarded from harmful external factors, and keeping consumer safe, flexible pouches and bags are the most effective, convenient, customizable solution on the market today.