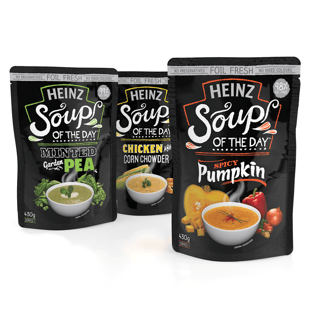 Retort Packaging
Durable Pouches for Ready-to-Eat Meals
Though all stand up pouches and barrier bags are made with special laminated layers that protect food from spills, puncture, and outside contaminants, special films are required for food products designed for quick, convenient cooking. Retort packaging is a unique form of stand up pouch used for cook-in-a-bag meals and sides, such as soups, rice, sauces, and pasta dishes.
The food-grade, FDA-approved materials used to construct this type of packaging undergo a sterilization process that extends the shelf life of the product inside while boosting the durability of the package itself. After going through a retort machine, the food and package are able to withstand temperatures up to 250 degrees, making this the perfect solution for microwavable meals.
Because of their strength, flexibility, and light weight, retort pouches have become a widely used alternative to traditional canning methods for preserving food and allowing it to stay fresh for many years. These pouches use less than 5% of the packaging material of traditional rigid tin cans and help improve food quality, texture, flavor, and aroma.
Food products can be pre-cooked or raw before being placed into retort packaging, and they are sterilized more quickly and at lower temperatures than in traditional rigid containers. Through the use of scientifically developed layers and bottom gussets, these pouches are able to stand vertically on shelves and in microwaves, allowing consumers to easily spot them in store aisles and keep them in their homes. The upright structure also helps maintain the shape and composition of the product inside during the rapid cooking process.
Retort pouches can be customized using a rotogravure printing process that creates rich, vibrant designs on the outer layer of the package. Like all products supplied by StandUpPouches.net, retort packaging abides by our high-quality standards:
FDA-approved, food grade material
Water-based inks
ISO and QS quality rating
Excellent print quality, regardless of order size
Recyclable and landfill friendly