Custom Printed Labels for Product Packaging

When preparing to launch a product in stores, the logistics of getting goods packaged shouldn't cause added frustrations or setbacks. Putting time, care, and attention to detail toward the quality of the product should be a brand's chief concern, which is why teaming up with a trusted packaging partner is so essential. Your partner in product packaging will deliver high-quality, flexible package seamlessly and on time so your entire product line functions, performs, and looks exceptional inside and out. Not only that, a trusted partner will also help your brand distinguish itself from competitors through visual cues that draw consumers to your product.

StandUpPouches.net has partnered with Avery WePrint, an online professional printing service that specializes in short-run custom labels, to help emerging businesses enter the same playing field as massive, big-name brands. Through this partnership, we help your company create a cohesive, consistent brand image through the use of high-quality packaging and custom printed labels that show off your distinct logos, color schemes, designs and graphics.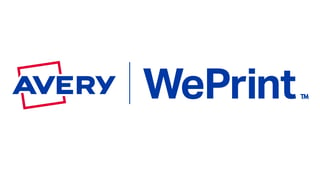 Custom printed labels are the perfect solution for companies that don't yet have the resources to order large runs of fully custom-printed packaging. CPG brands can order smaller quantities of plain stock stand up pouches AND custom designed labels directly from the StandUpPouches.net online store.
This saves you the hassle of printing out your own labels or shopping around from a plethora of sticker companies to find a solution that reflects the quality, consistency and attention to detail your brand puts into developing its products.
Avery WePrint and StandUpPouches.net offer an all-in-one solution to get your products packaged and ready to send to major retailers. Not only are we your "one-stop shop," we also pride ourselves on being your full-time packaging partners — here not only to supply you with high-quality, innovative flexible retail packaging, but also to help your brand, and its product line, stand out from the competition with customized solutions.
The Avery WePrint-StandUpPouches.net experience offers CPG companies the following complete solutions:
Premium, professionally printed labels for packaging

Low minimum order quantities & short runs

No setup fees or plate charges

Variety of materials and finishes

24/7 access to online ordering and reordering

Ability to upload personal artwork OR use of Avery design tools

Instant online cost quote

Order as few as one sheet of custom labels or up to large volumes on rolls

Custom Shapes are also available upon request
PROCESS
Visit avery.com/standuppouches on your device

Click START NOW

Select your desired label shape, size, material, and quantity

Upload your artwork files, or use Avery WePrint's free design tool

You can also reorder previous roll label designs
APPLICATIONS:
Stand up pouches for pet treats, snacks, granola, nuts, candy, protein powder

Flat bags for beef jerky, deli meats, frozen food

Flexible box bags for coffee, popcorn kernels, cereal

Spouted pouches for fruit juice, baby food, wine

Child resistant bags for medical products, vitamins, laundry pods, chemicals
LABEL TYPES
Sheet labels

Roll labels

Cards
All StandUpPouches.net customers will receive 10% off custom printed labels from Avery WePrint with promo code ABC10