While Tricia Fages owned and operated The Cupcake Crush, a successful bakery in California, she ran into a dilemma that could have discouraged many less-optimistic entrepreneurs. Some of her customers, or their loved ones, could not eat her delicious desserts and decadent wedding cakes because of food allergies or sensitivities. Tricia wanted to make sure everyone and their families could enjoy the goods she had to offer even if they could not consume wheat, milk, eggs, or nuts. That's when she decided to make a change that had a dramatic, positive effect on her business.
The Good Scone was born when Tricia developed a way to make her baked goods gluten free, vegan, and allergy friendly. Not only would Tricia share her freshly made fares with the world, she would encourage others to slap on an apron, heat up their ovens, and learn the secrets to her baking success. With a line of specialty chocolate and vanilla cake mixes and flour, The Good Scone lets allergy-conscious consumers become bakers of delicious products that taste like the real thing.
Because The Good Scone is a progressive company appealing to a special type of customer, Tricia knew the standard cardboard box wasn't going to cut it for the packaging of her products. After reviewing her of pros and cons, she found that stand up pouches were the only type of packaging which received no cons on her list. Scanning the shelves at the grocery store, Tricia noticed a huge transformation – flexible retail packaging is taking over, and she could clearly see why.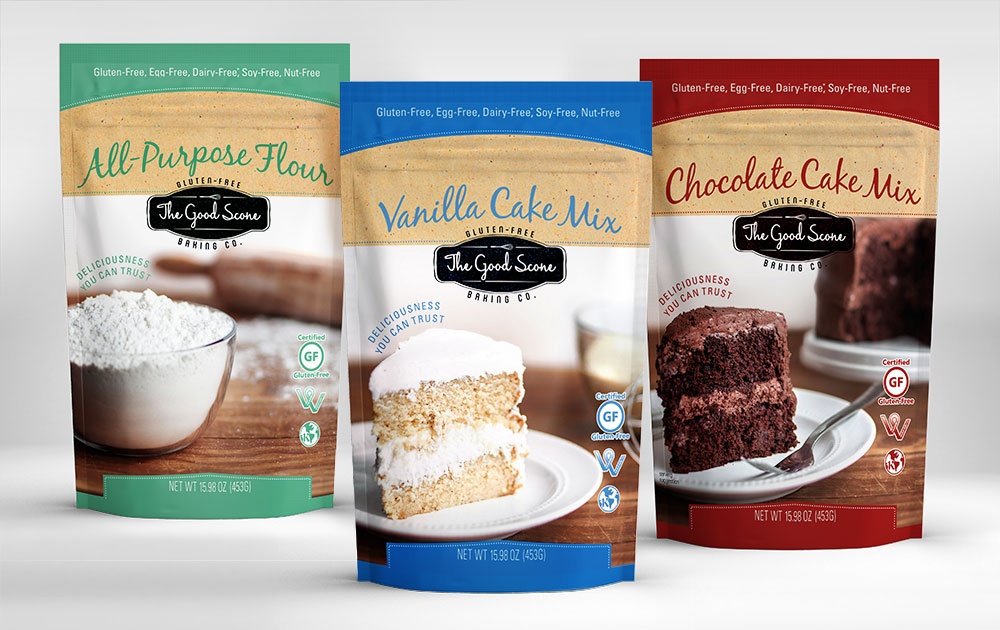 Successful food companies have ditched their old packaging in favor of stand up pouches, which are durable, lend to a longer shelf life, and are conveniently shaped to fit on store and pantry shelves without taking up too much space. With her customer in mind, Tricia made the choice to package her mixes in stand up pouches, which she happened to love because they are made quickly and serve as an excellent medium for vibrant, eye-catching graphics.
After conducting some research, Tricia found StandUpPouches.net online and quickly noticed some of her favorite food companies featured as happy customers. She worked with the team, which she said helped her every step of the way to get her stand up pouches delivered and products up on the shelves.
As a small business owner, Tricia was understandably budget conscious and wanted to make sure she was getting the most value for her money when it came to her selected flexible retail packaging. Initially, she opted for an inexpensive, glossy pouch, which she immediately realized did not lend well to the eye-popping photos and graphics she wanted to feature on her stand up pouches. Startup owners understand they have to be careful where they're allocating their funds, but in this case, Tricia knew that first impression is everything to a customer and the packaging for her mixes had to be perfect.
Switching to a metalized-matte finish made all the difference. Her graphics were vibrant, The Good Scone photos were lifelike, and Tricia was pleased StandUpPouches.net was able to turn around her initial disappointment into an overwhelmingly positive experience for her and her company.
Tricia advises other small businesses to really invest in the visual element of their product and its retail packaging. "In order to compete with the 'Big Boy' food companies," she says, "we had to have 'Big Boy' packaging." She explains that StandUpPouches.net gives companies the opportunity to create top-notch products at a price startups can afford; no hidden gimmicks or tricks — just a hard working company wanting to see small businesses thrive.
A company like The Good Scone, whose owner has spent years perfecting her recipes, deserves the highest quality retail packaging to show off the products inside. Small businesses truly put their heart and soul into their goods, and they want to customers to know they have created a homemade product they can trust. Likewise, startups will find success partnering with a packaging supplier who wants the goods inside to be the shining stars.
The Good Scone mixes are currently available on shelves in several Southern California grocery stores and can also be purchased online at GoodScone.com.