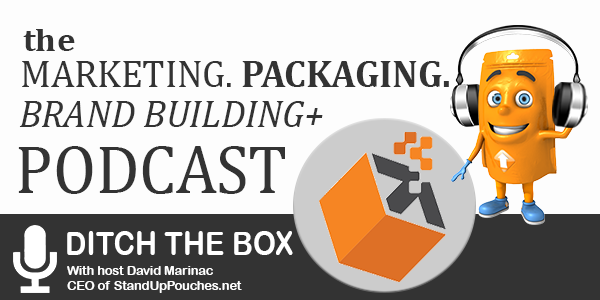 Program highlights modern marketing strategies and effective brand-building solutions through interviews with leading industry experts.
After an extended, successful run as a radio show on Voice America Business Network, "Ditch The Box" has debuted in a podcast format and is available for listeners to stream or download via iTunes and DitchTheBoxes.com. This move came from show host David Marinac and his team to offer a more convenient, on-demand program that audiences can listen to anytime, anywhere.
Marinac has more than 30 years' experience in the custom packaging industry. His forward-thinking approach combines inventive marketing techniques, a powerful team and a can-do-anything attitude. In addition to serving as a charismatic podcast host, he also speaks about the importance of packaging, branding and marketing at industry events across the nation. "Ditch The Box" is an extension of the presentations and conversations Marinac regularly holds with clients, colleagues, partners and inquisitive audiences.
With a total of 22 episodes available now for instant download, each one-on-one podcast interview conducted by Marinac focuses on topics such as modern marketing techniques, strategies for building a sustainable brand, establishing credibility using the latest technological advancements and designing retail packaging that connects with influential millennial consumers.
New episodes are released each week and can be accessed on the Ditch the Box website or iTunes. Guests share insider secrets and tricks of the trade for finding success in markets like specialty foods, confections, contract manufacturing, animal products and even medical marijuana. No topic is off limits, and each episode is presented as a casual, open-ended conversation from game changers in a wide range of industries.
"'Ditch The Box' is an all-encompassing podcast, covering all sorts of industry topics. The ultimate goal of the show is to share industry knowledge and spark conversation that will be useful to our audience," said Jamie Berling, "Ditch The Box" Executive Producer.
The most recent episode of "Ditch The Box" features an extended talk with Evan Delahanty, CEO of Peaceful Fruits. Delahanty explains how listeners can promote sustainability within their brands and give back to their communities in strategic, thoughtful ways while still earning a profit. The conversation takes place on the heels of Peaceful Fruits' endeavors toward national product distribution, offering listeners a behind-the-scenes look into turning a social-good concept into a successful business.
Other "Ditch The Box" guests have included:
Jeff Fromm — FutureCast President, Forbes Contributor, Author of "Millennials With Kids"
Tom Szaky — TerraCycle Founder and CEO
Obeta Osolu — Domino's International Quality Assurance, Peal Starch Founder
Kevin Coen — Fannie May Fine Chocolates and Harry London President
"Ditch The Box" is affiliated with leading flexible retail packaging company, ABC Packaging Direct, home of StandUpPouches.net. Marinac serves as President and CEO of this organization.
For more information about upcoming guests, or to inquire about appearing on an episode, contact "Ditch The Box" producer Jamie Berling here: http://ditchtheboxes.com/contact-us/
About "Ditch The Box":
Based in Cleveland, Ohio, but featuring guests from across the U.S., "Ditch The Box" serves to educate and inform listeners interested in exploring the good, the bad and the ugly of business from prominent leaders. Focusing primarily on the retail sector, host David Marinac interviews CPG brand entrepreneurs, longtime industry pros and marketing experts while sharing his own expertise about packaging and its role as the signature brands leave everywhere. The name "Ditch The Box" refers to both thinking outside of the box in terms of promoting and running a business, as well as embracing new solutions like scientifically advanced flexible retail packaging for consumer goods.
About StandUpPouches.net:
StandUpPouches.net is a leading online supplier of flexible retail packaging solutions for many of the world's largest brands. By partnering with small and mid-market businesses, the company has helped its customers build their brands and successfully market their products using the finest printed pouches in the industry.