As health consciousness grows among consumers, a certain salty snack is seeing a boom in popularity Almonds have become the go-to option for many Americans, with consumption of the nut rising to
two pounds per person each year
.
With bold new flavor varieties like Sriracha and Toasted Coconut revving up the taste of these crunchy snacks, shoppers are scooping these up off the shelves now more than ever. Almonds fit perfectly into diets like Paleo that focus on protein-rich foods that keep consumers fuller for longer.
The almond craze doesn't seem to be going away any time soon, but it does come at a cost. Prices of the snack are increasing due, in part, to smaller crops resulting from the drought in California. Industry producers are being hit especially hard, as a lack of the nut means less opportunity to introduce new related products like almond butters and almond milk.
Right now, almonds are the highest valued tree-nut crop in the U.S. However, a continued lack of rain in The Golden State could further harm this industry and disappoint consumers. As a result, the Almond Board of California is investing $2.5 million into research it hopes will help improve almond farming and sustainability. A whopping 80 percent of the world's almonds are grown in California, and the good news is water usage to farm the nuts has decreased by 33 percent over the last two decades. Industry leaders are trying to figure out ways to do more with less water and resources, and they are pushing for growers to reflect and reevaluate their practices so they have less impact on the environment.
For almonds to continue their status as a go-to, in-demand healthy snack option, producers must focus on improving sustainability and eco-friendly practices from the growing stage all the way to delivering the almonds in stores.
Brands like Blue Diamond, a California-based company specializing in the sale of almonds and related products, has introduced new varieties available in stand up pouches. Using flexible retail packaging for their nutritious, oven-roasted almonds has less impact on the environment than bulky plastic containers or boxes that take up space in landfills and burn more fuel during the shipping process.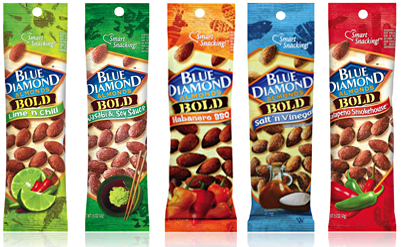 (Image Source: http://free-stock-illustration.com/)
Since 1915, Blue Diamond has retooled its food packaging options to meet consumer and economic demand. By the 1980s, the company had developed a new packaging made of composite paper to reduce costs and keep products fresh. Currently, the company uses cost-effective, landfill-friendly stand up pouches to package its larger-size almond offerings. Blue Diamond went the smart route by listening to customers and innovating its flavors, product options, and food packaging to become the preferred almond brand of choice for many.
Participating in sustainable practices and choosing food packaging that is good for the planet can help spark real change and cut costs for both manufacturers and consumers. The California drought is a very real issue that is having major consequences on the food industry. Taking action to establish your business as a sustainable brand begins with the development of your product and ends with the packaging it is contained in. Remember – retail packaging acts as a billboard for your brand. It's a great way to communicate your planet-saving initiatives to customers and maintain their satisfaction and loyalty to your product.
Related Posts: