After companies have invested time, money, labor, and energy into perfecting their products, the next big achievement is getting their goods on the shelves at major retail stores. Many will hand out free samples, attend trade shows, and send salespeople across the globe to show off the product and convince others to purchase it. One major component of successfully getting your goods in the hands of customers is great retail packaging. Unfortunately, this is an area many companies overlook, and that greatly jeopardizes their chances of getting their offerings out on the shelves.
Just as producers invest time and resources into making sure their ingredients and raw materials arrive quickly, they must place the same efforts on their packaging.
Most companies don't think about supply chain solutions as much as they should, and this oversight can be extremely costly. Face it – brands will fail with major retailers if they aren't able to ship their products to the stores on time, and handling packaging needs from a third-party manufacturer can hold up this process.
What happens if there is a huge spike in sales of your product, and you need to ship more to retailers in a short amount of time? Or, what if your team has developed a winning promotional product that needs to get out on the shelves in time for a holiday or major event? Your company needs to focus on its supply chain solutions to ensure this happens on time. Finding a retail packaging supplier who views you as a partner rather than just another customer will guarantee your packaging is shipped to you quickly so you can get it out to retailers without any hold up.
Supply chain is at the heart of any good packaging supplier's business, and it can make or break your company's retail success.
Once your business has made it a point to pay close attention to retail-packaging suppliers and their supply chain solutions, the following considerations must take place to guarantee the process runs smoothly.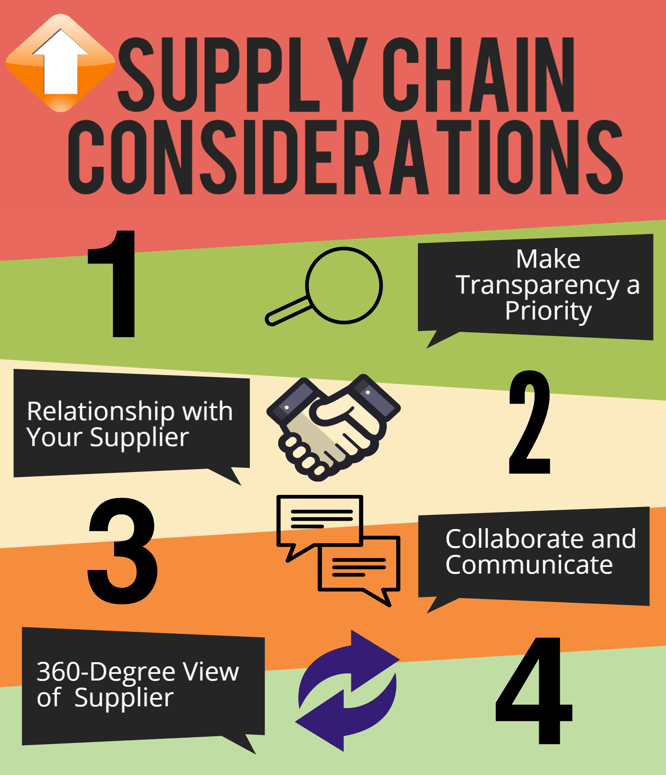 Share this Image On Your Site
Make Transparency a Priority




Good packaging suppliers will be honest and upfront with you about their process and pricing. Asking questions will help you understand if your supplier has created a fully visible supply chain so you know where your packaging is at all times. It works both ways – you must be honest with suppliers as well to ensure they are able to work with you to deliver the very best packaging your product deserves.
Develop a Close Relationship with Your Supplier
Companies need to work with suppliers to educate and inform about their brand, product, and specific packaging needs. Likewise, companies should learn as much about their retail-packaging supplier as possible to assess their strengths and weaknesses. Viewing the relationship as a partnership is crucial. Good packaging suppliers want to see your company succeed almost as much as you do.
Collaborate and Communicate




Few things will get accomplished in your business if all team members aren't working together to achieve overarching goals. The same goes for the packaging suppliers you're working with – developing trust and being transparent is key for solving issues quickly and making sure both sides can complete their goals in the most efficient manner. That's why keeping your packaging needs in house is so important. Work with your packaging partner to make sure they understand what you need, where you need it, and when.
Obtain a 360-Degree View of Your Supplier




Companies should create a formula to evaluate their supplier's performance and develop metrics to measure their process. They should review how well the supplier was able to meet their needs, how quickly they respond to requests and issues, what condition their packaging is in when it arrives, and if they kept their promises regarding the time it will arrive and how much it will cost.
Supply chain management simply cannot be overlooked in today's fast-paced world. Developing a partnership based on trust and communication is so important for both companies and suppliers. Goals will be achieved in a quick, cost-efficient manner when businesses pay close attention on their relationship with retail packaging suppliers and how well they achieve supply chain success.
Related Post: