Stand Up Pouches for Herbal Tea
Stand up bags (also known as stand up pouches) continue to be used effectively and extensively when packaging herbal teas. Herbal tea isn't tea according to the purists as it is made from the leaves of other plants besides tea.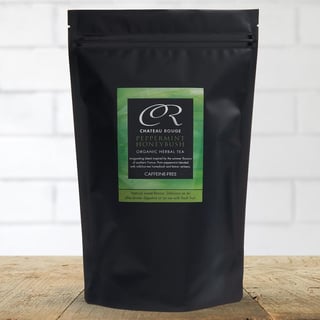 Nonetheless, herbal tea -- like organic tea and loose leaf tea -- needs to be protected from any number of environmental issues, such as light, moisture, odor, vapor, oxygen, and even puncture. The multiple layers of film used to make stand pouches
provide excellent protection from these elements as well as giving the stand up bag the strength and durability to stand effectively on a store shelf. The wide face of the stand up bag on the front and back provides lots of room for your company message as part of an applied label or, better yet, as a custom printed stand up pouch. Stand bags can be custom printed in up to 10 colors, which will present your herbal tea on a retail store shelf like never before. Available features for stand up pouches include heavy duty zipper tops, tear notches, hang holes, pour spouts, and even gas release valves.
Work with the Best Tea Packaging Specialists
At StandUpPouches.net, we make it easy to take your herbal tea packaging to the next level and beyond. From packaging concept to completion, we have the experience helping our clients attain the best fitting stand up bag with the most effective barrier properties at the total lowest cost, while at the same time helping them build their brand awareness like never before.
To simplify this entire process we have developed our Stand Up Pouch Fast Track System. If you are looking for a stock stand pouch in one of our many colors and sizes, an unprinted stand bag with a particular size unique to your product, or even a stand up pouch that is custom printed our design team can help. In regards to custom printing, once artwork is approved, you can expect your stand up bags in 6-12 weeks. Best of all, we have the unique ability to custom print stand up pouches with run quantities as low as 5,000 pieces, one of the lowest minimum runs in the world.
So make your herbal tea stand out with a stand up pouch or even a custom printed stand up pouch. Retailers and consumers will love the convenience while you'll build your brand like never before. The old traditional way of packaging using a bag in a box is dying while the use of stand up pouches continues to soar! It's your product, package it properly.