StandUpPouches.net is the leading online supplier of flexible retail packaging, offering flawless execution of packaging solutions for mom-and-pop, mid-market and Fortune 500 companies.
From the smallest startup to the established corporation, the StandUpPouches.net team guarantees each customer receives the same level of quality, attention, service and support no matter the size or scope of the project.
Creating custom environmentally friendly packaging, including stand up pouches, spouted pouches, flat barrier bags and retort packaging, is just one aspect of the services StandUpPouches.net provides. As a packaging partner, the team offers full supply chain management, marketing expertise, graphic design assistance and exceptional customer service to help build companies into highly innovative, forward-thinking brands.
Our Products and Services:
Plain Stock Pouches When weighing options for retail packaging, we recognize many entrepreneurs and smaller businesses do not yet have the space or resources for a 5,000-piece minimum order of custom printed stand up pouches. Plain stock pouches and bags are the ideal solution for any growing business, as each distinct style offers the following features at no additional charge:
Durable, 5-mil thick laminated film structure

Rounded corners

High-quality ziplock closure

Deep tear notches

Availablility by the case

Complientary samples so you can try before you buy
The following stock packaging options are available in our online store to best present and protect a wide range of products:
Stand Up Pouches (all clear film, all black foil, clear front + silver foil back, all silver foil, all gold foil, clear front + gold foil back, clear front + black foil back)

Coffee Bags (flat bottom, side gusset)

Flexible Box Bags

Kraft Paper Bags

Food Saver Bags

Flat Bags

Spouted Stand Up Pouches (for liquids, gels, purees)

Child Resistant Bags (federally compliant for medical marijuana, vitamins, pharmaceuticals, etc.)

Vacuum seal bags and heat sealers
Custom-Printed Pouches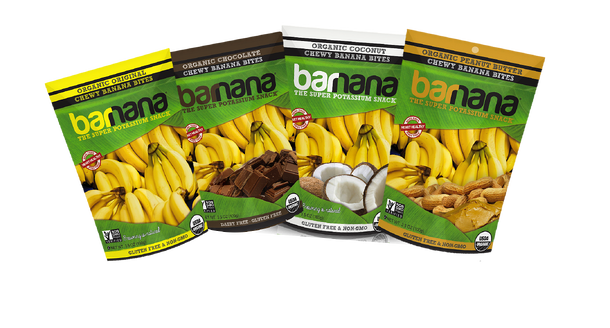 At StandUpPouches.net, we offer full graphic design services to help you create a custom packaging solution that fits the specific needs of your unique product. Using a rotogravure printing process, we ensure each pouch boasts high-quality graphics, text, images, and colors that allow your branding to POP and differentiates your product from the competition.
We allow each of our clients the ability to generate a 3-dimensional rendering of their packaging and create the pouch of their dreams from the comfort of their home or office. Using the compliementary MakeMyPouch.com tool or its corresponding mobile app, business leaders and designers can turn their artwork and packaging design ideas into reality.

Additionally, our in-house graphic design team is readily available to listen to your specific challenges, needs, and desires, and construct expert design solutions that meet the same high standards of your product line. Consistency is key, so we work to ensure your offerings are well protected using scientifically developed, structurally sound flexible packaging that utilizes food-grade, water-based inks that won't fade, bleed, or jeopardize the texture, flavor, shape, structure, or integrity of your product.
Digital Printed Prototypes
From trade shows to presentations, the launch of limited-edition or seasonal products, and even pitches to investors, the need for short runs of packaging that can be delivered FAST is very common among companies in the consumer packaged goods industry. To meet this demand, we utilize the latest, most innovative digital printing technologies to supply packaging prototypes that are delivered to clients in as little as three business days.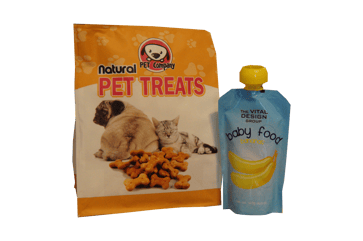 We can print as few as 1 flexible packaging option or up to 1,000, depending on our customer's specific need. Our printed prototypes are finished, functional pouches that be can used in a variety of scenarios. The selection of materials include: clear, metalized and foil laminates. We can then add reclosable zippers, tear notches, hang holes, even spouts and handles.
Because many companies select digital printed prototypes to test out a new item or a product that is currently in development, everyone involved in making your prototypes has signed a confidentiality agreement, and we will sign your own confidentiality agreement as needed. We've set up a direct line to our project managers so you can get your prototypes ordered and shipped ASAP.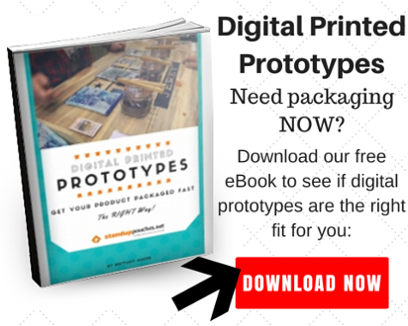 Supply Chain Management
We make it our commitment to ensure our customers never run out of packaging. We have it on hand 24/7 and release as needed. As your inventory goes down, we automatically manufacture more depending on your order history. We hold safety stock, inspect, orgainize, and deliver your packaging on time. Our supply chain services guarantee you can focus on your product, company and brand knowing your packaging is in the very best hands.


Connect With Us: