Cannabis Packaging that Builds Your Brand
Knowing how to package marijuana is the most vital part to ensure your cannabusiness will survive in the marketplace.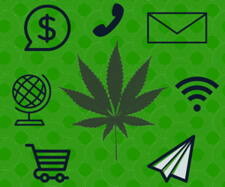 Medical marijuana is now legal in 24 states, plus Washington, D.C., and that number is projected to grow quickly. This means consumers in half of the United States are able and ready to get their hands on the plant! Old stereotypes and misunderstandings about cannabis are being shed at an alarming pace, and the industry is alive and well.
In today's world, marijuana means big business. It's the perfect time for producers of cannabis products to begin building their brands and marketing their goods to interested consumers. The most important part of getting your message across about the benefits of your product is understanding how to package marijuana.
Choosing the right cannabis packaging is a vital part of the business today. Both recreational and medicinal marijuana packaging truly serves as the voice of your brand, and it must be able to communicate both the safety of the product and the qualities that set it apart from others in an increasingly competitive market.
Our medical cannabis packaging is made with strong, FDA-approved laminated layers that keep freshness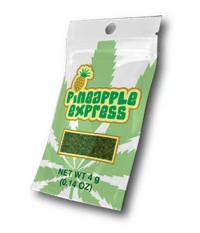 and aroma sealed inside while blocking out harmful outside contaminants like moisture, oxygen, and UV light. Whether you're exploring how to package marijuana itself, or you're seeking options for packaging cannabis edibles, selecting durable, flexible, stand up pouches and barrier bags will make sure the integrity of your brand and quality of your product remain intact.
Gone are the days when cannabis was packaged and distributed in tiny, discreet plastic bags. Consumers and retailers alike are seeking out the next big brand in the marijuana industry, and choosing cannabis packaging that allows colors, graphics, and designs to really pop will set your company apart.
Businesses entering the cannabis market have to abide by certain medical cannabis packaging requirements and regulations set by their state agencies. This is why our medical marijuana packaging is made with flat, wide exterior layers that offer plenty of "retail space" to include ingredients, dosage information, and required seals and text to informs and educate consumers before they open the package. This keeps your customers safe and establishes your brand as transparent and honest.
Medical marijuana packaging must be childproof and made difficult to open by little ones while still maintaining ease of use by adults. Regulations also state non-single use edibles and cannabis products must be resealable, and we offer the highest-quality stand up pouches and bags that can be heat sealed via heavy duty zippers. All of our medical cannabis packaging is 100 percent recyclable and landfill friendly, which appeals to customers seeking our more natural forms of medicine, such as cannabis.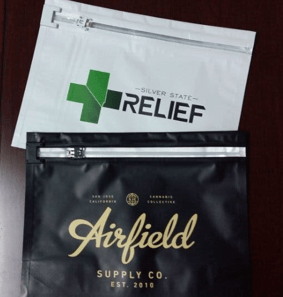 We also offer packaging solutions for cultivators and manufacturers of fertilizer and special nutrients used in the marijuana growing process. All of our cannabis packaging options are made from a variety of film layers that work together to provide strength and stability for the packaging to stand up on its own. Our packaging is puncture resistant, easily transportable, and can be custom sized and printed to suit your product's needs. The right cannabis packaging will stand out on dispensary shelves and help shed misunderstandings and misperceptions of this highly sought after medicinal herb and the booming marijuana market itself.