Though marijuana is not yet legal throughout the entire United States, the federal government has become increasingly lax about the substance and outspoken about its medicinal properties.
This month, the Obama administration removed a seemingly unnecessary hurdle for those conducting research on medical marijuana. Now, advocates only have three steps to complete: Submitting a research proposal to the FDA, obtaining a marijuana permit from the DEA, and acquiring a quantity of medical marijuana from the NIDA's Drug Supply Program.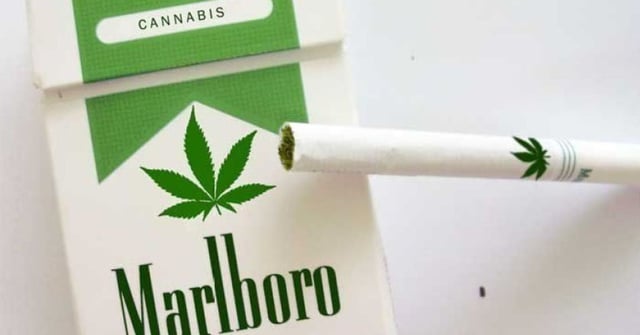 Medical marijuana has been reported to help treat a variety of conditions, and a study published by the American Medical Association shows it may even increase lung capacity – contrary to a popular belief from naysayers. That's right – pot smoke can have some unexpected positive effects on lung function. THC is used to help ease symptoms of cancer, after all, and health experts clearly would not prescribe such a substance if it created significant adverse effects. This is in sharp contrast to tobacco products, which the World Health Organization considers one of the "biggest public health threats" in the world. (Image Source: http://massappeal.com/)
This is why we're going to see some interesting differences in cigarette and medical cannabis packaging.
Cigarettes, traditionally packaged in small boxes or cartons, have become associated with rugged characters like the Marlboro Man rambling around the countryside with his rectangular pack stuffed in a denim shirt or jeans pocket. We're unlikely to see this kind of iconography associated with medical marijuana packaging, which primarily exists to keep products safe and fresh for the benefit of the patient.
While there currently are no federal guidelines set on marijuana advertising, consider that strict restrictions have been placed on tobacco advertising in the U.S. with anti-smoking campaigns sprouting across all media platforms. Ad agencies in the early 20th century may have gotten away with false messages about the "benefits" of smoking cigarettes, but such claims have clearly been debunked in the modern age. By contrast, extensive research has been put into the advantages of medicinal marijuana, which means we're likely to see more advertising for edible cannabis snacks, tea, and products like lotions and serums.
Medical marijuana packaging will have some restrictions, however, namely set in place to keep children safe. Ingredients must be listed on the exterior of the childproof bag or pouch, along with information on any nonorganic treatments used in the growth of the cannabis product. Regulations also state this kind of packaging must be childproof, whereas flimsy paper cigarette packs, for example, can be broken into with ease.
These regulations for medical cannabis packaging are certainly different from the restrictions placed on tobacco products, which must list an explicit warning from the Surgeon General on its packaging. New plain tobacco packaging laws have even been enacted across the globe requiring the removal of any branding, creative design or logos on cigarettes and related products. It is unlikely marijuana manufacturers will slap cartoon illustrations on the exterior of their product. Suppliers still must be conscious of upcoming rules and laws pertaining to their medical cannabis packaging, especially as the industry really begins to take off in upcoming years.
Related Posts: