One of the most appealing features of a stand up pouch is its ability to be easily

opened and re-closed to lock in freshness and flavor.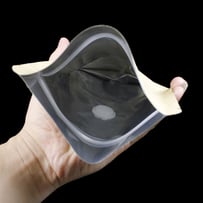 This offers convenience to the end user, as well as added value. Consumers can return to the product numerous times without worrying that it will become stale or contaminated. This also allows brands to package larger quantities of their products because it eliminates the need for single-serve packaging that is torn open and discarded after the product has been removed.
Zip lock pouches prevent spills and premature spoilage by allowing consumers to push out the air in the package after opening and prior to re-closing.
This also creates a slim, space-saving pouch that fits nicely in kitchens, backpacks, diaper bags, suitcases, or wherever a busy consumer needs to store their products.
Most people are used to seeing stand up pouches with a single-track lock that snaps into place when both sides of the top of the pouch are pressed together. This is the most common among stand up pouch zippers, but it's not always the most appropriate option for every product. Likewise, we've seen brands order inexpensive zip-lock pouches from large online retailers, only to realize the quality of the pouch is very cheap, and the zipper doesn't quite line up and effectively close.
It's so important to get samples and prototypes of the packaging you order so you can really feel the quality of the bag and test it to make sure it functions correctly with your product. Not only should the sides and bottom gussets of the zip lock pouches protect your items, the zipper should also be of a high quality and stay closed without breaking or malfunctioning. The last thing any consumer wants is a faulty zip lock that allows pests to get in the bag, or to experience a spilled product all over the place because the zipper didn't stay shut.
There are three main types of stand up pouch zippers we recommend for CPG brands: single track, slide zipper, and Velcro.
These are all excellent ways to make your packaging easy to open and re-close. Now it comes down to decision making: Which type of zip lock is best for your product and application? Let's break it down for you…
Single-Track Zipper

Also known as a "male-and-female" track, this is the most common type of zip lock for stand up pouches. Each side of the track meets together to create a tight seal. This type of closure does not feature sliding zipper, but rather comes with two tracks that snap in place.

Think of this as your standard zip-lock sandwich bag closure – you fill the bag with your contents, push the air out, then squeeze, pinch or slide your finger and thumb over the top so the two sides of the container join together and stay shut. These zip locks are more secure than reusable tape or a tin tie and can be added to stand up pouches or flat bottom bags to provide a stronger seal that works to prevent leaks, spills, and staleness.
Slide Zipper

A much-requested standout among stand up pouch zippers, this closure includes a plastic fitment that slides back and forth across a track to join each side of the pouch together and close the top. A version of this zipper style is used with our patented child resistant exit bags, although the lock on that particular type of packaging is intentionally more difficult to get into.

Your standard slide-zipper pouch is very easy to open and close, and it eliminates the potential risk of tearing a bag because you don't have to tug on both sides and pull to get the package open.


Velcro Zip Lock

One of the newest and most innovative ways to close a stand up pouch, the Velcro lock is quickly emerging as one of the most desirable features for brands in many different industries. The unique hook-and-loop closure is the perfect solution for very fine products, such as protein powder, chemicals, or rice, that could get stuck in the grooves of traditional zippers.

Using a press-lock mechanism similar to regular zip locks, this type of closure allows bags to be resealed by gently pushing both sides of the bag together to form a seal that can be opened and re-closed repeatedly. Compared to the regular track zipper, this style uses the fabric hook-and-loop fasteners we are used to seeing on all sorts of products from shoes, vests, and hats to medical supplies and other gear.

The Velcro style of stand up pouch zippers offers ease of use and ensures freshness and preservation of products inside the pouch. The closure system works, even if it comes in contact with fine or granular products, because the hooks will still close, compared to other existing closure systems that can become obstructed and nonfunctional when touched by finely ground particles. Velcro is one of the latest innovations in flexible packaging technology, and it is an ideal solution for products that are consumed over time.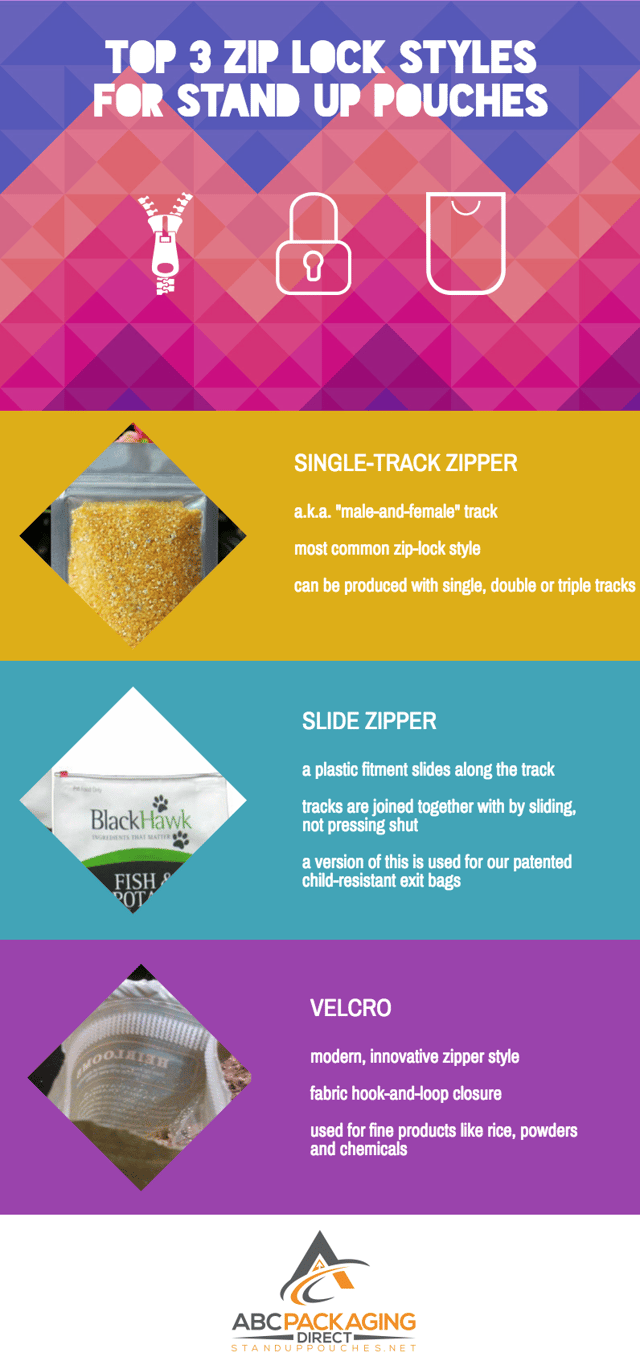 Share this Image On Your Site
There are multiple options available for closing and resealing your product packaging, and the key is to keep people returning to your product (rather than transferring it into their own reusable container) because it helps build brand recognition each time they return to the bags you have designed.
Not all closures are alike, and not all will work with the design or structure of the packaging you have selected. Creating a cohesive, consistent brand is important, as is developing packaging that includes components that all work together to, ultimately, make it easy and enjoyable for people to use over and over.
No matter which zip lock styles you prefer for your stand up pouches, you can guarantee your packaging will reflect the same high quality of your product and top-notch standards of your brand. While smaller companies may choose tin ties or a peel-and-stick closure for their bags, brands that want to be competitive with the "big boys" in their industries should focus on even the smallest details of each bag and select an all-in-one solution (like a zip lock) to present their product in the very best light.
(Image sources: eBay, Packaging World)