As the legality of cannabis becomes more widely accepted and embraced across the United States, we can confidently say the industry is on an upswing.
As with any new field that is growing in profit and popularity, marketing is a key priority for those in the business. Getting the word out about a brand, service, or product these days is both easier than ever and, in some ways, more challenging than in previous decades. Social media and mobile usage have been real game changers, and as consumer behavior shifts in the blink of an eye, even those in the marijuana industry have to stay keenly aware of the changing face of the consumer and how they respond to modern-day marketing.

The cannabis industry itself faces certain unique challenges in terms of their marketing and advertising strategies. Shifting consumer perception of marijuana is the first important step – then all the fun and creative branding and campaigns can follow. Legal rules and requirements, too, can affect the way marijuana is marketed, and businesses entering this space must rethink the way they're reaching consumers to ensure they are following all guidelines and aligning their efforts with modern trends and practices.

Marketing cannabis isn't just about improving its reputation or getting a product seen. These days, growers, distributors, dispensaries, and producers of hydroponic supplies and lighting systems must all be thinking about how packaging plays into their overall marketing plans. Modern marketers working to shed any negative stigma associated with these types of businesses are successful when they avoid using slang terms both in conversation and on their cannabis packaging. Cannabis businesses should eliminate recreational jargon and instead viewing marijuana as medicine and customers as patients. Communicating this through the outside of your product – whether it's an edible, the plant itself, or a tool used in growing – is vital.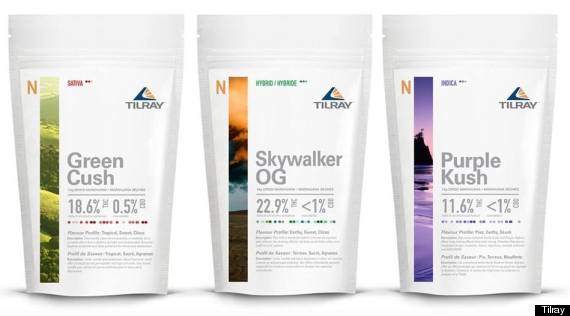 (Image Source: HuffingtonPost.com)
Cannabis packaging is an extremely important marketing tool partly because of complications and restrictions with traditional resources today's marketers are inclined to use. In states like Colorado, any marijuana-related advertising must be targeted to audiences containing 70 percent of people 21 or older. Advertising must also be crafted to reach local consumers only due to different regulations in different locations across the country. Outdoor and location-based marijuana advertising are also banned in most states.
In Washington State, billboards can be used to advertise cannabis products. However, companies generally do not include graphics of the plant itself and instead opt for general photos and designs that convey a certain lifestyle or showcase modern users of their products. The same rule should be applied to cannabis packaging to reduce the stigma of marijuana and communicate the benefits of medicinal and holistic benefits of the plant.
Interestingly, marijuana marketing is also banned from most social media sites, which is a huge blow to savvy marketers who want to reach today's highly mobile and connected consumers. Both Google and Facebook prohibit ads for marijuana or any related products on their platforms, and Instagram and Apple both have strict rules for marketing cannabis via their services as well. Because of these restrictions, marijuana marketers are constantly searching for alternatives. Conventions, conferences, and events are popular ways to get their products out there the safe and legal way, but once they goods are actually out in the dispensaries, they need to grab consumers' attention quickly.
Your product packaging can act as a miniature billboard in places where people can legally purchase marijuana and are looking for specific products that suit their needs. There are limitless possibilities to marketing such a diverse and flexible product, but making sure your brand is following regulations is key to getting ahead and growing your marijuana business. Focusing on the quality and ingredients of your goods, and adhering to regulations concerning childproofing your cannabis packaging, will communicate the value of your product and shape your brand as one that helps consumers feel better.
Because the marijuana industry now involves so much more than just selling little baggies of the plant, businesses have the power to change public opinion about the product in a big way. Selecting protective, eye-catching cannabis packaging should be an integral part of your overall marketing strategy, and it's an important way to get eyes on your product and company. Manufacturers that focus on the medicinal properties of the plant and use safe, FDA-approved packaging to keep it protected will be at a greater advantage. Flexible retail packaging lends well to colorful graphics and designs, allowing marketers to get creative with their branding and set themselves apart in an increasingly competitive market.
Related Posts: