For decades, rapper Snoop Dogg has represented the essence of California cool — his laid-back rhymes and outspoken affinity for a certain leafy plant has garnered him widespread global acclaim.
Now, the superstar is (perhaps unsurprisingly) venturing into the business of cannabis, releasing a line of custom-flavored marijuana strains, edibles, and concentrates. What makes his company interesting is its target demographic; these products aren't marketed to young, teenage stoners or rap aficionados, but rather a more sophisticated consumer base. The hip hop star-turned-entrepreneur knew reaching customers who purchase upscale goods would be dependent on carefully calculated marketing activities. Packaging has become a huge part of brand building for the Leafs by Snoop product line, highlighting a successful fusion of compliance with elegant design.
Pentagram, an esteemed design firm, partnered with Snoop Dogg to create the packaging that would come to set his brand of cannabis products apart from the competition. The key was to build a visual identity that doesn't just rely solely on the product's (or, in this case, founder's) name. Just as small businesses can't just rely on the name of their company — however catchy it may be — to earn sales, catching people's eye with unique, creative designs is crucial. For his particular line of child resistant packaging, Snoop chose California-inspired imagery, pastels, and gold colors that are inspired by T-shirts he would wear poolside or at the beach. Pentragram had to figure out how to make the child resistant bags look unique while still complying with rapidly changing regulations regarding closures, labeling, and language printed on the container.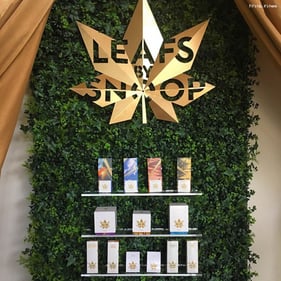 Because state and federal tamper evident reclosable cannabis storage bag requirements evolve so quickly, the design team chose to create a sticker containing verbiage about the product that can be applied to pre-existing packaging should new rules require different text on the outside of the container. Not all brands, however, wish to apply a sticker to each and every one of their packages, especially as the company grows and inventory increases. That's why partnering with a packaging supplier that can get new custom-printed packaging completed quickly is so important, especially as the legal marijuana industry grows and competition becomes fierce.
Finding a supplier or co-packer that is compliant with all legal requirements involved in producing tamper evident reclosable cannabis storage bags is crucial.
Choosing child resistant packaging that lends well to sleek, modern designs and keeps products protected from both outside elements and young consumers cannot be overlooked. A critical part of Leafs by Snoop's product development and packaging choice was testing. The containers had to be appealing to women shoppers who search for elegant products and shop at high-end stores that sell luxury products. To shed the "stoner stigma" and produce cannabis packaging that is compliant, as well as visually appealing, the designers had to focus on word choice, as well as graphic detail.
Per legal regulations, the word "candy" cannot be used on any cannabis or THC-infused edible product. Snoop and his team chose to name their related products "Dogg Treats," fusing the rapper's fun California attitude with high (no pun intended)-end product formulation and packaging designs. Dark chocolate with almonds and Peaches N Cream are just some of the edible products the line carries, and their corresponding packaging features calming images of marine life, palm trees, and oceanic views with a sans-serif font label applied to the front of the wrapping. The result is a product that could easily stand next to gourmet chocolates or organic treats in stores like Whole Foods or even retail department stores.
Packaging plays a crucial role in shaping or changing consumers' perception of a product. While Snoop Dogg could have gone the expected route with his line and packaged products with bright green fonts and graphics that appeal to a younger demographic, choosing elegant, minimalist child resistant packaging builds an entirely different brand image. Working with designers to create packaging that can be easily altered to comply with changing regulations, while still maintaining carefully chosen color schemes and luxurious gold typefaces, places Snoop Dogg in a position to succeed and thrive in the growing legal marijuana industry.
(Image Sources: New Cannabis Ventures, Materialicious)
Related Posts:
Cannabis PACKAGING Can Make or Break Your Brand
Choosing the Right Medical Marijuana Packaging for 'Medibles'
5 Recreational & Medical Marijuana Packaging Predictions for 2016
How to Package Marijuana Safely & Legally with Flexible Packaging