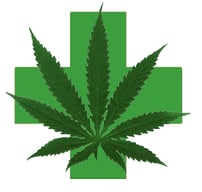 Twenty-three states in the U.S. have legalized medical marijuana in some form as the stigma of this controversial issue slowly deteriorates. No matter what side of the fence you're on, there's no denying that the use of this product has become more widely accepted across the nation. This means there is ample opportunity for the emergence and growth of companies supplying medical cannabis packaging.
Kush Bottles, a business specializing in certified, customized packaging solutions, has become the nation's largest wholesale distributor of medical-grade containers for medicinal marijuana. The company already sells 1 million bottles per month, thanks in part to the unique look of its containers. The bottles are colorful, appealing to consumers and suppliers who want to differentiate their product from the pharmaceutical industry. Kush has become so successful that it has plans for an initial public offering in the near future.
Bottles and vials have become a widely used form of medical cannabis packaging, but we're also seeing the emergence of new forms of protective packaging, especially among environmentally conscious suppliers. It's not hard to find eco-friendly marijuana consumers, after all, and "going green" has become easier thanks to new packaging solutions.
Companies like Desiccare are providing innovative medical cannabis packaging bags that preserve organic matter and protect against moisture. We know there is an increased demand for this type of packaging, and companies are able to purchase pouches and bags made from organic material that keeps out oxygen, odor, vapor and light. This type of protective packaging is not only available to keep medical marijuana pristine – it is also used by companies creating cannabis-infused coffee and tea to keep grounds and leaves fresh.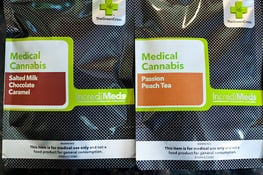 More than 1 million Americans legally use medical marijuana, according to ProCon.org, and that number is projected to climb as more states vote to legalize medicinal cannabis. Though most patients ask for a prescription to alleviate pain, medical marijuana is also used to help ease symptoms associated with cancer, multiple sclerosis, Crohn's disease and HIV. There's no denying cannabis will continue to be used recreationally, but when it comes to its medicinal properties, many will readily choose this option.
Suppliers can ensure they are providing their natural product in FDA-approved medical cannabis packaging as innovations in the industry continue to soar. From vacuum-sealing machines to organic, sustainable barrier materials, use of protective packaging will only continue to gain traction in the medical marijuana industry. Colorful bottles may be current leaders in the medical cannabis packaging market, but with new earth-friendly materials and customization options, we can expect to see a rise in pouches and bags as a preferred option for many suppliers. (Image Sources: http://www.cannabistherapyinstitute.com/directory/ and http://www.chow.com/food-news/109836/inside-a-marijuana-treats-kitchen/5/)